Full Automatic Cans Carbonated beverage Filling machine
Rinsing Filling and Sealing 3 in 1
Descriptions:
The machine is suitable
for filling pop can carbonated beverage, gas liquid, CO2 juice, soda water, soft water etc in the beverage industires.
1. The whole machine include cans rinsing, liquied filling,and cans sealing.
2. The machine is PLC control, and touch screen operation.
3. This filling machine is used for filling gas beverage in cans , such as carbonated drink, CO2 juice, soda water, soft water etc.
4. This beverage cans filling machine can be used for different material of cans, such as plastic, aluminum and so on ,and the different size of cans is allowed.We can design the euipment according to your requirements
5. This beverage can filling machine is applicable for pressure filler and capper of beverage industry.
6. The can filling machine is a pop canned beverage in the digestion and absorption of advanced foreign and domestic sealing machine on the basis of independent development of the can filling, sealing unit.
7. Rinsingm filling and sealing is the overall designed, power system by filling sealing system to Ensure that both the absolute synchronization and coordination.
8. Beverage can filling machine adopts the advanced machine, electrical equipment, and Pneumatic control technology.
9. The beverage can filling machine has the characteristics of filling reposefully, high speed, liquid level control, capping reliably, frequency conversion timing, less material loss.
Model: YXDGF12-12-1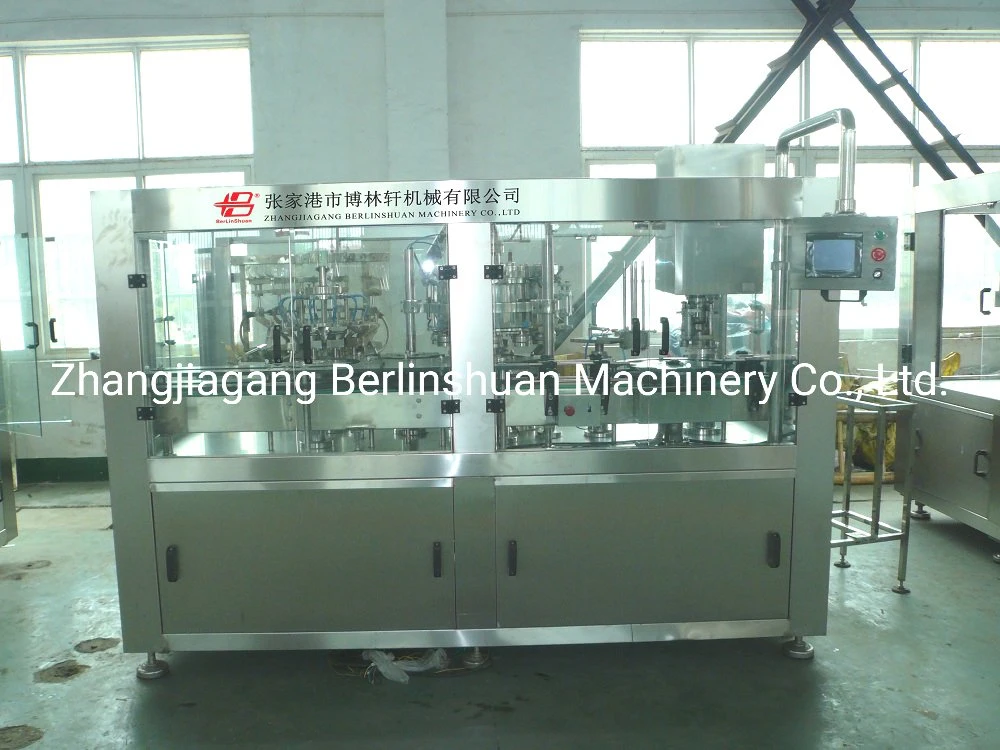 Product Name
Cans Carbonated beverage filling machine 3 in 1
Model
YXDGF12121
YXDGF18184
Heads of washing filling and capping
12-12-1
18-18-4
Capacity
1500-2000BPH(@350ml)
4000-5000BPH(@350ml)
Cans Diameter
φ50-φ110mm (Height): 100-180mm (Volume: 250ml -750ml)
Cans type
200/202/206/209
Material
Stainless Steel 304
Total power
3kw
5.5kw
Filling pressure

Balance pressure

Rinsing pressure
0.2-0.25MPa
Size
2800x1800x2250mm
3200x2100x2250mm
Weight
2800kg
4200
Touch screen
Mitsubishi(Japan)/Willen(Taiwan)/Siemens(Germany)
PLC
Mitsubishi(Japan)
Transducer
Mitsubishi(Japan)/Siemens(Germany)
Contactor
Schneider (France)/Siemens(Germany)
Electronic control keys
Mitsubishi(Japan), Siemens(Germany)
Air-actuated componen
Airtac (Taiwan)
Solenoid valve
FESTO (Germany)