ZWG-590 Servo Control High Speed Shrink Packaging Machine
Special Recommendations:
This machine adopts the technology of Japan and uses all the imported electrical elements. It is a high speed automatic packaging machine which is born in advanced technology and rich experience in Japan.
The machine is simple in operation, reliable in quality and stable in performance. With
v
ariable frequency modulation number and stepless variable speed
s
. The control set of complete machine is completed by PLC, reducing the fault point. High efficient double temperature zone in heat shrink furnace, non-polar speed regulation and automatic temperature control. Efficient hot air circulation for the quality of contraction
Performance Characteristics:
Color touch screen control system, driven by three servo motors, easy to operate, high stability, high packaging efficiency and low failure rate; bag length, speed and temperature can be individually adjusted, easy to operate and accurate.
The anti-cutting and safety-breaking device shall not damage the packaging materials.
High sensitivity photoelectric eye color standard tracking, mathematically input sealing position, so as to make the sealing position more accurate
Temperature independent PID control, which is better suitable for various capsule materials.
Positioning stop function, non-sticking knife, no waste of capsule.
The transmission system is simple, more reliable in work and convenient in maintenance and maintenance.
Cut the product to be automatically reversed, and start the machine directly after restart for easy operation.
Add scrap recovery device to make the package more beautiful, save about 20% -30% of material compared with traditional folding film packing machine.
It is feasible to be equipped with printer or printer, and it is unnecessary to use manual.
It has motor brake control, and the equipment reaction is sensitive.
High efficient double temperature zone of heat shrink furnace, high efficient hot air circulation, automatic temperature control, to ensure shrinkage quality.
Scope: Packaging in groups of food, drugs and beverages, bowl, milk tea, mosquitoes, wall paper, coaches, filters, electrical switches, preservation films, garbage bags, various materials, industrial parts and packaging of daily cosmetics.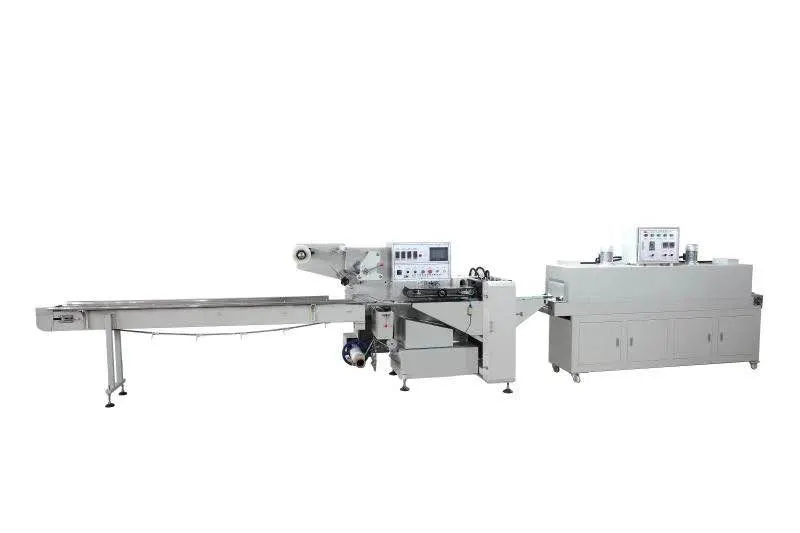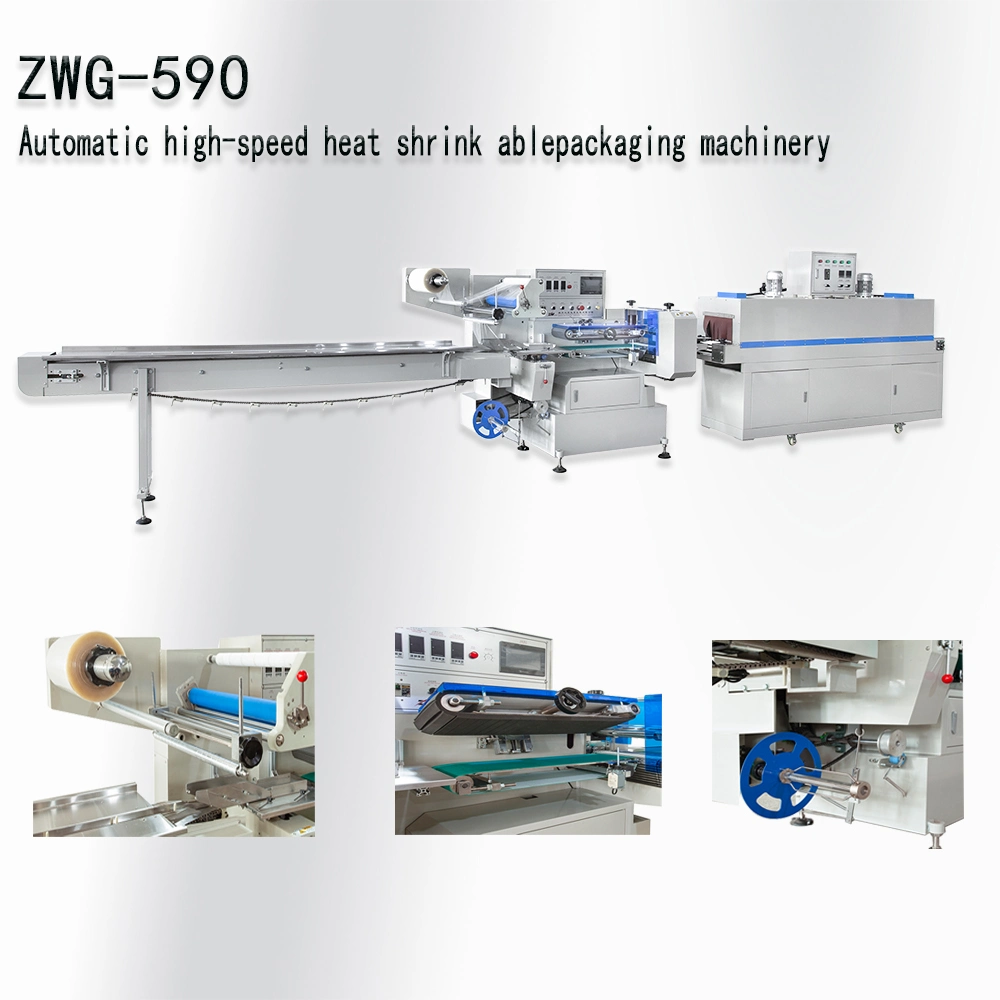 Sample Packed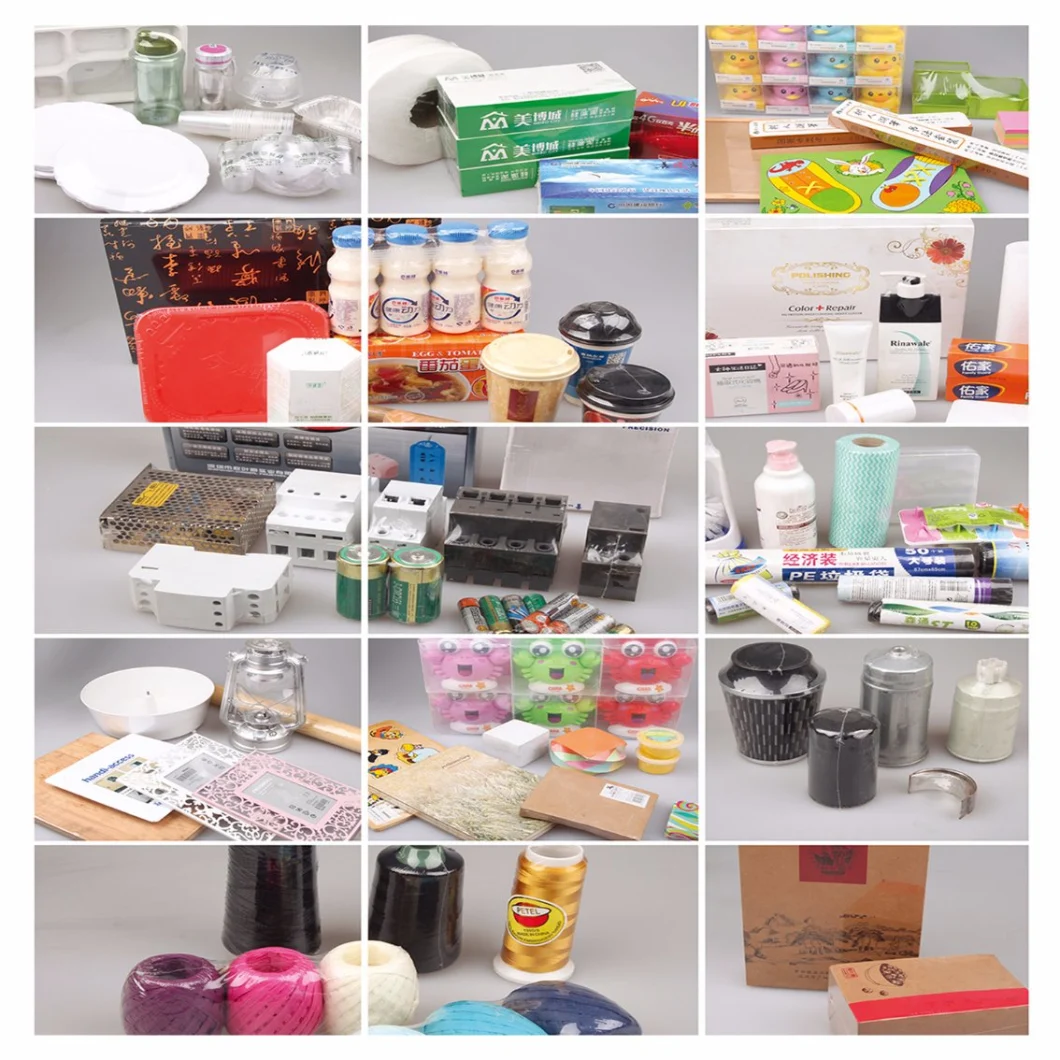 Main Technical parameters
Max Flim size

≤590mm

Model

120

150

180

210

240

Packing size

L :Bag length

L:60mm-320mm

L:100mm-450mm

L:150mm-530mm

L:180mm-600mm

L:210mm-650mm

W:width

w:10mm-200mm

w:10mm-200mm

w:10mm-200mm

w:10mm-200mm

w:10mm-250mm

H:height

H:5mm-35mm

H:35mm-70mm

H:65mm-100mm

H:80mm-130mm

H:100mm-150mm

Packing speed

30-150(pack / min)

30-150(pack / min)

30-135(pack / min))

30-100(pack / min)

30-80(pack / min)

Flim type

PVC;POF

Power consumption

Packaging machine:4.75KW;Shrinking machine:13.5KW

Power supply

Packaging machine:220V,50HZ/60HZ;Shrinking machine:380V,50HZ/60HZ

Envelop dimensions

4800x1170x1500mm

Shrinking

machine

Dimensions:2600x600x1700mm

Furnace channel size:2300*250*200mm

Weight

Packaging machine:1000KG

Shrinking machine:600KG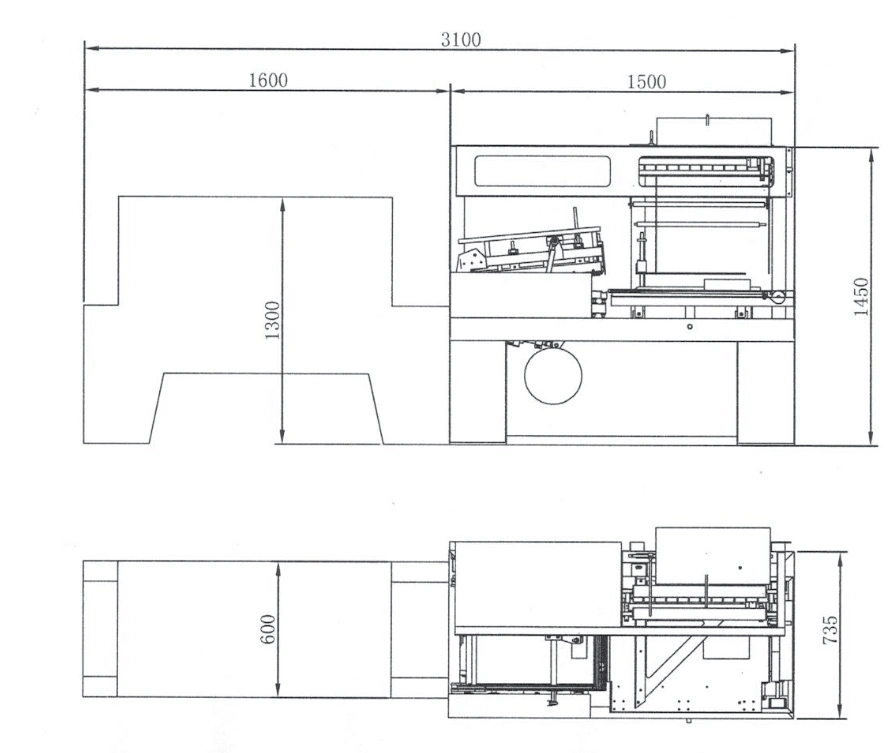 A Brief Introduction of the Company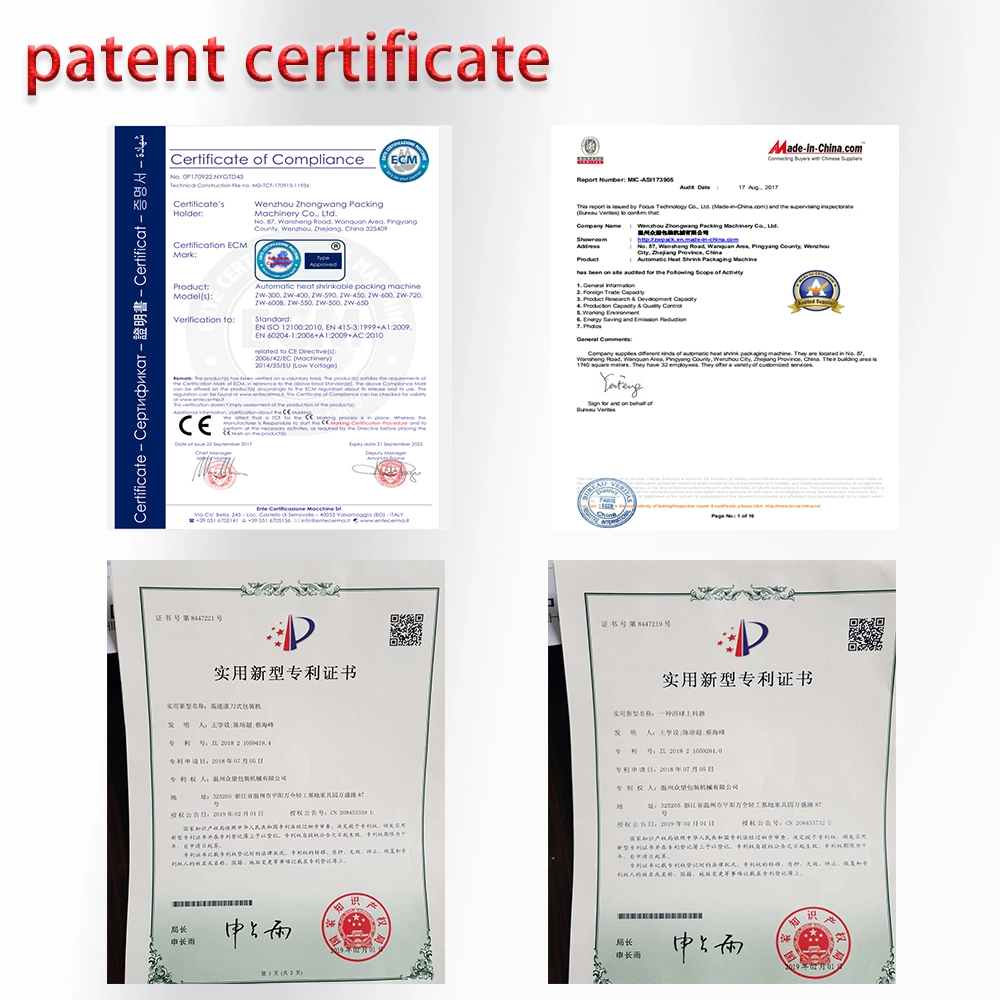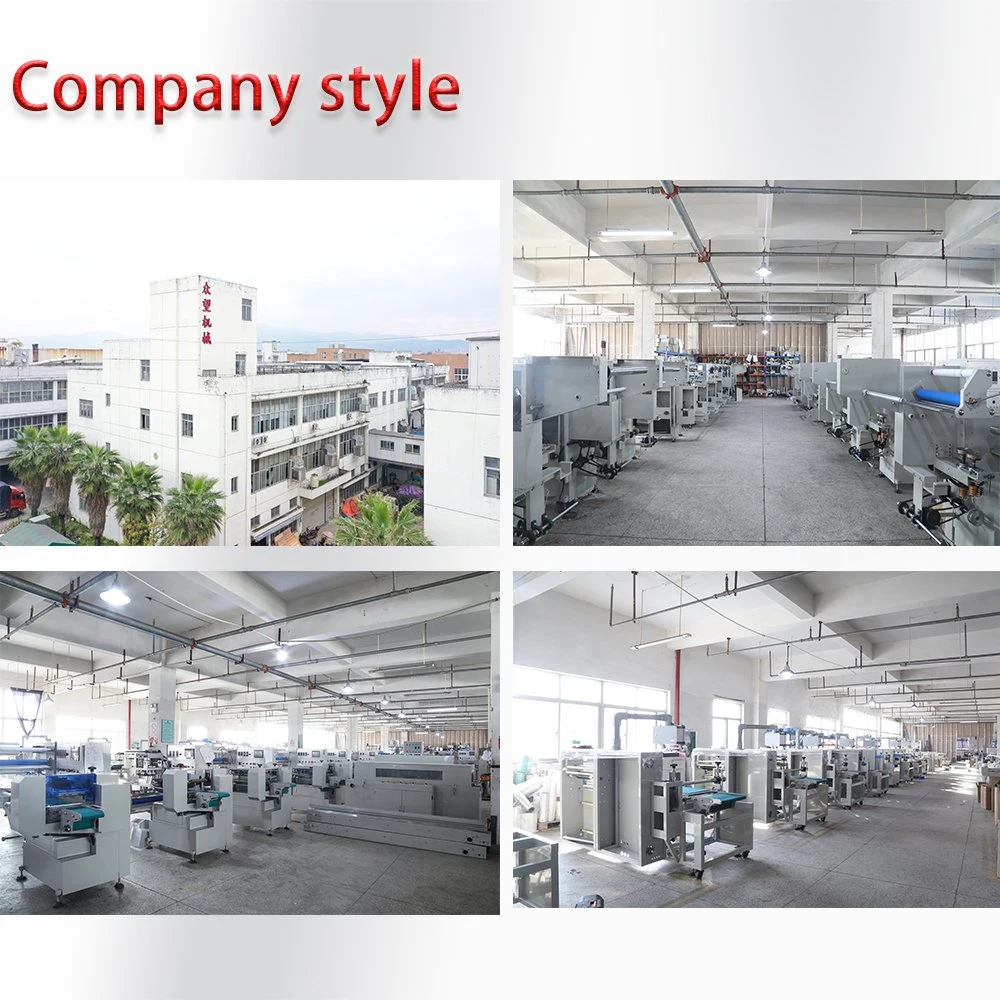 Wenzhou Zhongwang Packing Machinery Co., Ltd., located in
Pingyang county, wenzhou city, zhejiang province
. Our company integrates scientific research, manufacture, marketing with services. It has abundant tachnical strength, advanced production equipment, high quality staffs and perfect post-services.
The main products of our company are automatic heat shrink wrapping machinery such as auto L-bar sealing & shrink packing machine, automatic side sealing & shrink packing machine, automatic sleeve heat & shrink packing machine and related equipments. Also we are glad to provide OEM service for other manufacturer or company.
Most of our machines have CE certificate. Our machines are famous for high quality and reasonable prices. They are popular in domestic and exported to over 40 countries. Till now, we have good reputation around shrink packing industry.
On the basis of mutual benefit, we firmly insist on the principle of "credit and customers satisfication first". We have won the trust of clients form home and abroad and we are also looking forward to wider cooperation with new customer.