Rinsing-Filling-Capping 3-in-1 Monoblock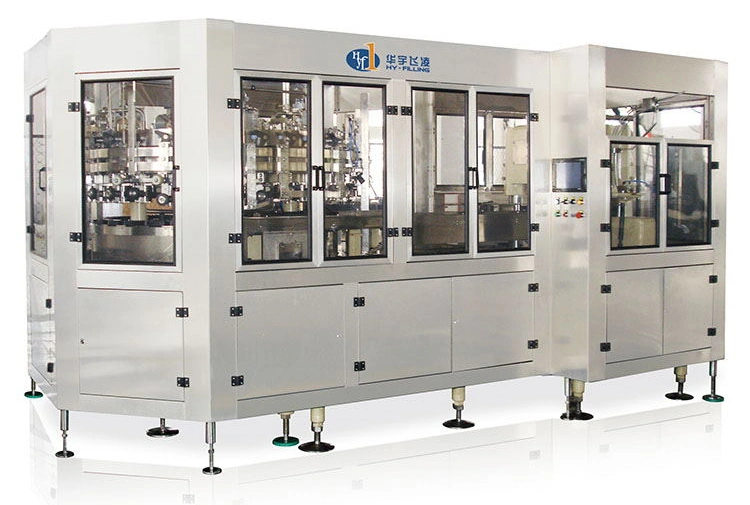 It is used to clean empty can in canning production line. Empty cans will be sent to turning device first, which will be turned around then transferred into rinsing machine. Empty can will be running from top to bottom along the turning device. When empty cans enter into rinser, they will be cleaned by 80ºC hot water (provided by customer) to reach aseptic state of can. There is certain inclination angle in both sides of rinser, whose size could be adjusted properly when needed. Empty cans will be rolling in parallel way from top to end; the waste water will be discharged from outfall
It is suitable for filling and capping carbonated beverage such as beer, CSD, etc. It is equipped the advanced device, electrical equipment, and pneumatic control technology. It has the characteristics of filling reposefully, high speed, liquid level control, capping reliably, frequency conversion timing, less material loss. It can be equipped long-distance control system. It is the preferred equipment for the medium beer and beverage plant.
Detailed images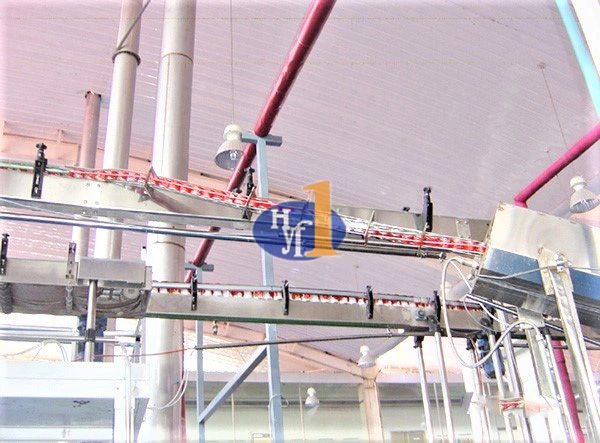 washing part
<1>All 304/316stainless steel rinse heads, water spray style inject design, more save water consumption and more clean
<2>304/316 Stainless steel Gripper with plastic pad, ensure minimal bottle crash during washing
<3> 304/316 stainless steel washing pump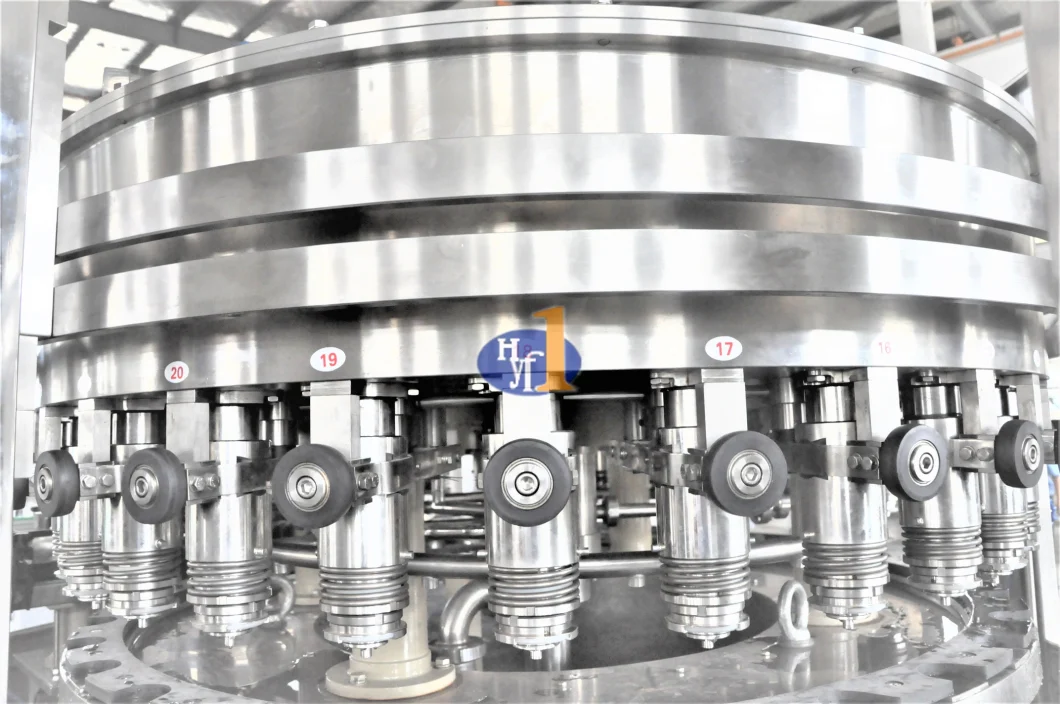 Filling part
<1> 304/316 Stainless steel high precision filling nozzle
<2> Filling volume adjustable in fine rank, same liquid level after filling
<3> All 304/316 stainless steel contact parts & liquid tank, fine polish, no death corner, easy to clean
<4> 304/316 stainless steel filling pump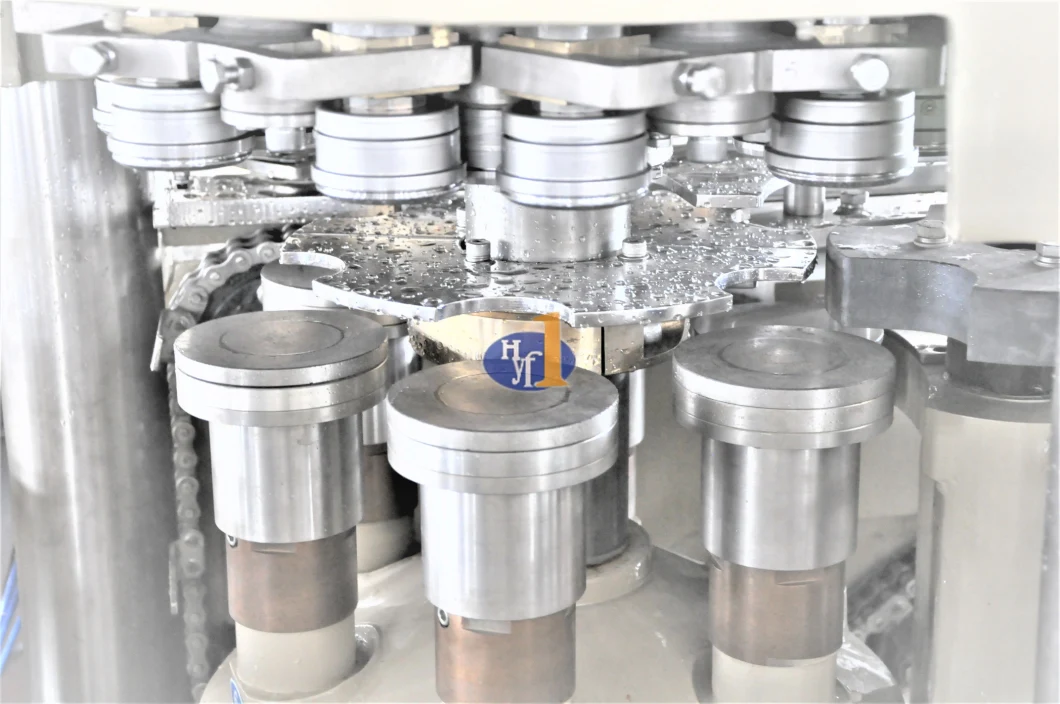 Capping part
<1> Place and capping system, electromagnetic capping heads, with burden discharge function, make sure minimum bottle crash during capping
<2> All 304/316 stainless steel construction
<3> No bottle no capping
<4> Automatic stop when lack of bottle
We provide the Complete plant turnkey project for pure water production line including:
1.Water Treatment System, (Water Filtration)
2.Bottle Blowing Machine,(Making plastic bottles)
3.Air Conveyor,(Transport empty bottles)
4.Water Filling Machine ,(Filling water into bottles)
5.Cap elevator, (Transport cap)
6.Blow dryer, (Blow dry water)
7.Flat Convey, (Transport bottle)
8.Code Sprayer,(Printing the date on the bottle water)
9.Labeling Machine ,(Labeling in bottled water)
10.Bottle Shrink Wrapping Machine, (package the bottle water)
11.injection molding machines,(for pet preform)
Auxiliary machines





RO water treatment system

We adopt different equipment to produce pure water, mineral water etc. The main equipment of RO Water Treatment Plant are silica sand filter, active carbon filter, sodium ion exchanger, hollow fiber, RO( reverse osmosis), UV sterilizer, precision filter, ozone generator, water tank etc. It can effectively get rid of muddy organic matter, iron, manganese etc, reduce the hardness of the water to make all specifications of the water quality fully meet the state fresh water standard of fresh drink water.

Blow molding system

1. Excellent Mechanical Strength, impact-resisting, and non-craking.
2. Bottle mouth and thread are of precise measurement.
3. Plastic Medicine Bottle's safe thread can be molding directly.
4. The size and weight of the product can calculate and design clearly and meet the requirement of the design without any deviation.
5. The surface of the bottle mouth, neck and the body is good luster and smoothness, the standard of bottle body is unity.
6. The joint seam on the bottle body is smooth, no scrap rubber.

Automatic labeling machine

1. Shrink Labeling Machine For Sleeve adpots PLC programmable controller,imported servo motor,servo driver, frequency converter and transducer.
2. Shrink Labeling Machine For Sleeve adopts the positioning module to ensure the casting label precise,rapid and stable.
3. Our Shrink Labeling Machine For Sleeve not only has a highly precise position for casting label, but also withstand the perfect shape of the bottle after shrinkage.

PE film packaging machine

Automatic PE film heat shrink wrapping machine is suitable for wrapping of such products as pop top, mineral water , bottles. beer, drinks etc. Working with PE film shrink tunnel to pack the goods perfectly , the whole production process adopts the Germany advanced technics, and the main parts are imported from international famous companies. It consists of seven actuating motor, through cooperation with 7 actuating motor to form the product packed with plastic film and several bottles as a group out from the hot shrinking packing machine.
Company Profile
To help our customers build an ideal factory. With efficient cost control, we have found the right balance with our customers: diversified production range, high-class packaging forms. Meanwhile market competitivness has been improved because of the efficient operation mode of equipments.
<1> Standardized workshop of total 30,000 square meters.
<2> With a more than 30 professionals team to design and develop, is a key professional enterprise, which integrates development, research, design, manufacture, technology service and marketing.
<3> HY-Filling follows ISO9001:2000, CE Certificate , SGS , COC , TUV international quality management system.
<4>The equipment will be tested and run for 24 hours before leaving the factory, to ensure the smooth working of water pipeline, and pneumatic, electrical and mechnical stability.
<5>Professional installation team who are seasoned technician, Provide equipment quality installation services

Million-dollar-invested workshop
All filling machine accessories and bottle blowing machine molds we try to ensure their own production, to ensure that our HY-QUALITY. Every fittings fits perfectly with the main body. Controlling Quality from Source.

Clear Classification of Warehouse
No need to worry about the replacement of spare parts after purchase. HY-warehouse will store the fragile parts that every customer may need, and provide you with the original spare parts at any time.

Orderly workshop
HY-FILLING always believe that orderly workshop is the key to ensure production efficiency, and also reflects whether a company's management is qualified. Our workshop is the key to ensure timely delivery.

Hy-services
1 Installation and commissioning
After the equipments arrived buyer's workshop, the buyer should take it's place for each equipment according to the supplied layout; the seller will send the experienced technician to guide the installation and debugging and trail production, and fulfil the designed capability within the designed time.

2 Training
Our company will supply technical training to the buyer. The training is includes: equipment structure and maintenance, control and operation. After training, the technicians of the buyer will grasp relevant operation and maintenance skills, and could adjust the technologies more skilled, and can deal with all kinds of malfunction in time.

3 Quality guarantee
We promise that our goods are all new and not used. They're made of suitable material, adopt new design. The quality, specification and function all meet the demand of contract. We promise that the products of this line could storage for one year without adding any aseptic.

4 After-sales service
1) After qualified of the equipment, the seller will supply one year guarantee, control system one year guarantee, free charge for wearing parts, and other spare parts with cost price. Within guarantee period, the technicians who accepted training should strictly obey the requirements asked by the seller to operate the equipments and maintenance, to find the common malfunctions and fault clearing in time; if the technicians of the buyer couldn't solve the problems themselves, the after-sales department will supply long range guide service by phone; if relevant measurements couldn't solve the problems, the seller will send the technicians to the buyer factory, clear the fault or relevant technical problems on site, the charges will reference to the installation and debugging charges.
2) After guaranteed, the seller will supply widely favorable technical support, after-sales service for the lifetime: favorable price for the wearing parts and other spare parts.

FAQ
Q1: Do you have reference project?
A1: We have reference project in most countries,If we get the permission of the customer who has brought the machines from us ,you can go to vist their factory.
And you are always welcome to come to visit our company,and see the machine running in our factory,we can pick you up from the station near our city.
Our sales people you can get video of our reference running machine

Q2: Do you have agent and after-service stations?
A2: So far we have agent in Yemen,Nigeria,Dubai,India,Kenya,Dubai welcome to join us!

Q3: Do you provide customized service
A3: We can design the machines according your requirements(materil ,power,filling type,the kinds of the bottles,and so on),at the same time we will give you our professional suggestion,as you know,we have been in this industry for many years.

Q4: What's your guarantee or the warranty of the quality if we buy your machines?
A4: We offer you high quality machines with 1 year guarantee and supply life-long technical support.

Q5: How long time for installation?
A5: According your machines order,we will send one or two engineers to your plant,it will take about 10 days to 25 days.